15 Dec

NCCC Annual (Christmas) Luncheon

Date/Time
Date(s) - 15/12/2022
12:00 pm - 2:30 pm
Restaurant Long Island
Categories
"I'm Dreaming of a Green Christmas"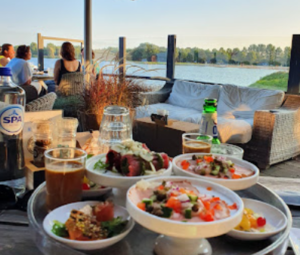 We warmly invite you to seek new business opportunities, expand your network and meet with fellow-members, while enjoying a wonderful 3-course lunch and drinks. Chat with members of the Board, guest speakers, Quebec Delegate General Geneviève Brisson and Senior Trade Commissioner Adam Barbolet, whilst exploring the theme of all things green.
Award
The NCCC Business of the Year Award will be presented during the luncheon.
Gift
Meet the author of "What Is Wisdom?: A Collection of Practical Thoughts for Better Decisions in Life" and receive a free copy of the book.
Members
The luncheon is free of charge to members of the Netherlands-Canada Chamber of Commerce. When registering, please apply the discount code (sent to you by separate email) in order not to be charged. Do not proceed with the registration if you don't have the code – otherwise you will be charged. If you have not received the code, please check your spam folder or contact the office.
Guests
We have negotiated a very reasonable price for guests of €55 including wine. In this way, we hope to attract more new faces and expand the networking opportunities. The Annual Luncheon is also an excellent event to bring valued clients or staff members to.
Not only will it enhance the networking opportunities for all, but guests may also deduct the cost for the luncheon – in the amount of €55 – from their membership fee for 2023 if they sign up at the event or before the end of the year.
Date: December 15, 2022
Time: 12:00-14:30
Place of venue : IJweg 1270, 2133 MJ Hoofddorp
Parking: Free of charge – at the side of the restaurant
Dress code: Business Attire
Lunch: You will be given a choice of 3 main courses when you register. Don't forget to let us know of any dietary restrictions.
Transport
For those taking public transport, the bus stop (Floriande Sportdorp) is at the other side of the lake and is approximately 10 minutes walk. Please contact the office and we will see if we can arrange car sharing or pick-up at the bus stop if required.
We look forward to welcoming you!