04 Dec

NCCC Annual Luncheon

Date/Time
Date(s) - 04/12/2023
11:30 am - 2:45 pm
Hoeve Kromwijk
Categories
The NCCC Annual Luncheon will be held 4th December 2023 at the beautiful former farmhouse of Hoeve Kromwijk in Zoetermeer.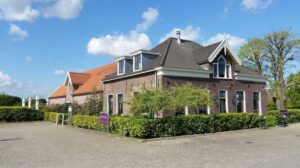 Hoeve Kromwijk
133 Voorweg, Zoetermeer, ZH, 2716 NH
We warmly invite you to seek new business opportunities, expand your network and meet with fellow-members, while enjoying a wonderful lunch. Chat with members of the Board and newly appointed Ambassador Adsett.
Award
The NCCC Business of the Year Award will be presented by Ambassador Adsett during the luncheon.
Seminar
Prior to the luncheon, there will be a 30 minute presentation about EUDR by Diederik Beutener, Embassy of Canada and Harry Gras, Gras Woodwide. This Regulation is about the consequences for companies involved with importing from Canada, or exporting to Canada, agricultural products which have a relation to deforestation. Since this will be held in a separate room, you must also register for this if you would like to attend.
Members
The luncheon is free of charge to members of the Netherlands-Canada Chamber of Commerce. When registering, please apply the discount code (sent to you by separate email) in order not to be charged. Do not proceed with the registration if you don't have the code – otherwise you will be charged. If you have not received the code, please check your spam folder or contact the office.
Guests
We have negotiated a very reasonable price for guests of €55 including wine. In this way, we hope to attract more new faces and expand the networking opportunities. The Annual Luncheon is also an excellent event to bring valued clients or staff members to.
Not only will it enhance the networking opportunities for all, but guests may also deduct the cost for the luncheon – in the amount of €55 – from their membership fee for 2024 if they sign up at the event or before the end of the year.
Date:
December 4, 2023
Time:

11:30-12:00 EUDR Seminar

12:00-14:45 Luncheon

Place of venue: 
133 Voorweg, Zoetermeer, ZH, 2716 NH
Parking:
Free of charge – at the side of the restaurant
Dress code:
Business Attire
Transport:
For those taking public transport, the bus stop is at the end of the street. Please contact the office and we will see if we can arrange car sharing.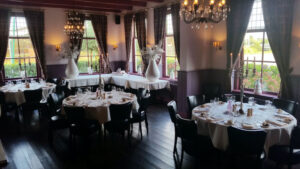 Originally a large farm built in 1871, the farmhouse eventually became a stylish restaurant. As a result of a devastating fire during New Year's Eve 1998-1999, the farm was almost completely engulfed in flames.In 2004, after a thorough restoration, Hoeve Kromwijk was reopened as a restaurant.