20 May

2022 AGM And CSMART Visit A Great Success

Thanks to Bill Truelove, CEO of the Center for Simulator Maritime Training – CSMART Academy in Almere, for hosting a truly unique company visit on the 17th of May 2022.

We began the afternoon with our Annual General Meeting where we reviewed the past year, approved the audited accounts and (re)elected our Board.

Following the formal part of the agenda, we were introduced to the facility.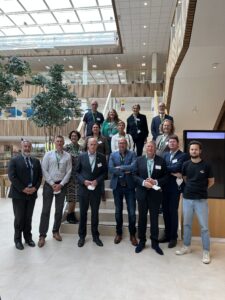 Carnival Corporation is the world's largest cruise company with a fleet of 90+ ships and 9 global cruise line brands that visit more than 700 ports around the world. It owns and operates the Arison Maritime Center, home of the Center for Simulator Maritime Training Academy, also known as the CSMART Academy.
Opened in July 2009, CSMART Academy is a world-class training center for safety, sustainability, and operational excellence in maritime operations. It features the most advanced simulator equipment, technology, and instructional tools, to provide the Carnival Corporation Deck and Technical Officers with a superior maritime training experience that emphasizes critical thinking, problem solving and decision-making. In July 2016 Carnival Corporation expanded its training operations with the opening of the CSMART Hotel.
The group were given a tour of the facility including the simulated engine rooms, control rooms and the massive bridge. The simulations included sailing at night, through fog, rain and an air/sea rescue, all while trying to avoid the countless ships in the Carnival fleet as we approached the white cliffs of Dover. The bridge was so life-like that you really felt like you were on board an enormous cruise ship.
We were also allowed to play with the controls for the engine room and see what happens in an emergency. We even had a go at trying to 'break' the simulation and use the immortal words of Scottie in Star Trek - "She canna take any more, captain! She's gonna blow!"
Following the tour, we moved outside for a borrel and lots of networking.
You can find more pictures here.