17 Dec

Congratulations to Alvéole, winner of this year's NCCC Business of the Year Award

The Award was announced during the NCCC Annual Luncheon on 15th December 2022.

Alvéole are based in Montreal, Quebec, Canada and bring nature back to cities through engaging and impactful initiatives.
Their goal is to make people fall in love with bees, build ecological awareness, and in time, more sustainable cities and food systems. By bringing bees to a clients' building, they provide both a turnkey educational service and an exceptional, meaningful experience. Staff can get as hands-on as they would like but the hive is managed by a professional beekeeper. The honey is harvested and processed and delivered back to the client to use as staff presents, branded gifts or to donate as you wish. Ultimately, they want to make urban agriculture a normal part of city life. They support this aim by giving back 1% of their annual sales to non-profits fighting to protect the environment, creating high-impact partnerships.

Update Feb 2023

Due to unforeseen circumstances, the Award could not be presented as planned. It was presented by NCCC Chair Sandra Brandenburg to Fraser Black at a later event.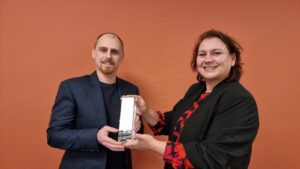 The annual NCCC Business of the Year Award recognizes the efforts and successes of both Canadian and Dutch companies and is presented to a company which has had outstanding achievements in the market or shows a new, innovative approach to a particular problem.
Each year, a theme is chosen and a number of companies that are in line with that theme are considered. This year the theme was "I'm dreaming of a green Christmas". Companies do not have to be a member of the NCCC but they must be active in both Canada and the Netherlands and must promote trade and cultural exchange between the two countries.