15 Aug

UM6P and Proton Ventures Sign An Agreement To Construct A Green Ammonia Pilot

The Mohammed VI Polytechnic University (UM6P) and NCCC Patron Member Proton Ventures BV, have signed, in the presence of the Institute Research Energy Solar et Energy Nouvelles (IRESEN) and Mr. Fred Duijn, charge d'affaires of the Dutch Embassy, an agreement for the construction of a Green Ammonia Pilot at the OCP Group chemical complex in Jorf Lasfar.

As part of the contract signed between UM6P, the OCP Group and the Institute Research Energy Solar et Energy Nouvelles (IRESEN) in November 2021, this agreement concerns the turnkey construction of the first pilot of the "Green H2A". It is a unit for the production of green ammonia with a capacity of 4 tons per day based on the Haber-Bosch process. For the production of Green Hydrogen, the pre-industrial pilot is equipped with two PEM & Alkaline electrolysers with a capacity of 2 MW each. This unit will also be equipped with an emulator that can simulate different electrical load profiles, in particular the hybridization of photovoltaic (PV) and wind (Wind) energy, in different geographical sites in Morocco and around the world.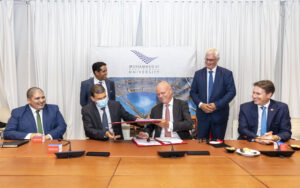 Installed in Jorf Lasfar, this world reference unit by its size and its innovative configuration will make it possible to prepare larger industrial projects, by capitalizing on the knowledge and know-how generated during the exploitation phase which will start in the first quarter of 2024.
"Through this agreement, the UM6P confirms its desire to make green hydrogen an industrial reality in Morocco. The specificity of this pilot is that it will be dedicated to research, training and production. On the one hand, it will constitute a living laboratory available to UM6P Researchers, Doctoral Students and Professors for research and education in the fields of hydrogen and green ammonia, on the other hand, for our industrial partners at OCP, it will be a pilot for training and feasibility studies for a large industrial unit of Green Ammonia," said Mohammed Bousseta, Director of Innovate for Industry at UM6P.
Paul Baan, CEO of Proton Ventures, reported: "It is an important step to design and build this Green Ammonia plant in order to bring the energy transition to reality! We are looking forward to work with UM6P, OCP and IRESEN and all subcontractors to deliver a successful project."
"Through this installation, the partners of the 'Green H2A' platform, which are OCP, UM6P and IRESEN, are providing the national community with a structuring and innovative project that can shed light on larger-scale projects that are currently being developed by several international players in our territory and internationally. The technological bricks of this pilot as well as its architecture will allow us to locate expertise, train human capital, and acquire contextualized data covering a range of scenarios and operation and maintenance configurations ( O&M) of these future green molecule production plants! commented Samir Rachidi, Scientific Director and Acting General Manager of IRESEN.